FREE THE TONE LOGO T-SHIRTS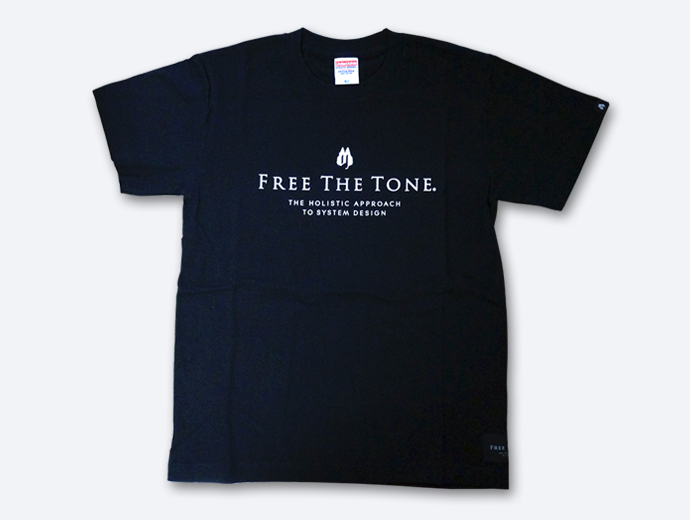 Small logo label on sleeve and bottom left side.


This is a limited item that can only be purchased through the FREE THE TONE online store. Orders from all areas accepted.
We are not accepting product returns or exchanges.
S Size : Width 48cm/Length 62cm
M Size : Width 52cm/Length 67cm
L Size : Width 54cm/Length 71cm
XL Size : Width 60cm/Length 75cm
XXL Size : Width 66cm/Length 82cm
HOW TO ORDER
Order and payment

All products are available to order via PayPal by selecting your area of residence and then adding your order to the cart.
You can purchase our products easily and securely through the PayPal website by credit card or with your PayPal account, if you have one.

Your order confirmation will be automatically sent by e-mail from PayPal when your order is completed on the PayPal Website, with the details of your purchase. We will also send you an order acknowledgement and delivery information by e-mail. If you don't receive any message directly from us, please contact us by e-mail at overseas@freethetone.com for confirmation.

Lead Time

We try to keep items in stock when possible but if we are out of stock, it will take 2~3 weeks for shipment after we receive your order. We will let you know the delivery schedule in our order acknowledgement.

Shipping area restriction

We can only take orders from customers in countries listed here. If you live outside of the areas in the list, please purchase Free The Tone products through our local Free The Tone Distributor/Dealers.

For the countries which are not in the available shipping area list and also there is no official dealer, we are sorry but it is not possible to export from Japan through our shipping service.
Please contact us at overseas@freethetone.com, and we will make a special arrangement with our distributor close to your area to ship our products directly to you if you would like.

Delivery

We will ship out your order after confirming receipt of payment.
We offer FedEx economy service or EMS for overseas customers. They are both safe, quick and traceable.
Orders are usually received within 3~5 business days from the day we ship them.
After your order is shipped, we will send you the EMS or FedEx tracking number so you can track your package.

Shipping Charge

Shipping Charges are listed below.
The shipping charge will be added to your cart authomatically when you pay through PayPal.

tr th Purchasing Amount th Shipping Cost tr td ~Yen25,000.- td Yen2,500.- tr td Yen25,001~Yen55,000.- td Yen3,500.- tr td Yen55,001~Yen75,000.- td Yen4,500.- tr td Yen75,001~Yen100,000.- td Yen5,500.- tr td Yen100,001~ td Yen6,000.-

Customs, Duties and Taxes

Please note that you will be regarded as the importer of record for the products you order and you will be responsible for lawful settlement of all administrative fees, expenses and any additional charges for customs duties and taxes in the destination country (i.e. customs clearance fees, import taxes, etc.), which may be incurred by importing the products. Customs policies vary from country to country so please contact your local Customs Office if you have any questions on importing products to your country. Please note that we have no control over these charges and we are not in a position to assist with these matters.

*If you do not pay the Customs charge or make the necessary arrangements for importing and the package returned to us, we can only refund the product cost, not shipping charges. Also, you may need to pay a PayPal handling fee when you receive a refund of the product cost.

Returns

We accept returns and refunds ONLY FOR products that are defective on arrival due to faulty parts or construction. We will not accept returns and refunds for any other reasons.

If you receive a defective product, please CONTACT US VIA EMAIL within 10 days after receiving the product at overseas@freethetone.com without fail before sending it back to us. When we confirm that the defect was caused by faulty parts or construction, we will replace it as soon as possible.

Process for Returns

First please contact us via e-mail at overseas@freethetone.com within 7 days from the date of delivery and before sending a product back to us.

Please explain the problem you are having with your product in detail. After receiving your e-mail, we will send you instructions by e-mail with information on the process for returning goods. Please read it carefully and follow the instructions.

Cost incurred by Returns

In a case where it is confirmed that a defect was caused by us, we will cover the shipping charges for returning the product. However, please note that we cannot cover customs clearance fees, import taxes, etc. when you receive the package.

Cancellation of Order

We will cancel your order ONLY IF we receive your cancellation request before we ship the order out and within 7 days after you ordered through the online store. Some products are made to order and we will not accept a cancellation request after we start making the product.
PRIVACY POLICY
Our Commitment To Privacy

Your privacy is important to us. To better protect your privacy we provide this notice explaining our online information practices and the choices you can make about the way your information is collected and used.

What we collect

We may collect the following information:

name
contact information including email address, phone number
demographic information such as postal code, preferences and interests
other information relevant to customer surveys and/or offers

What we do with the information we gather

We require this information to understand your needs and provide you with better service, warranty, and in particular for the following reasons:

Internal record keeping.
We may use the information to improve our products and services.
We may periodically send promotional emails about new products, special offers or other information which we think you may find interesting using the email address which you have provided.

We are committed to ensuring that your information is secure. In order to prevent unauthorized access or disclosure, we have put in place suitable physical, electronic and managerial procedures to safeguard and secure the information we collect online.

How we use cookies

A cookie is a small file which asks permission to be placed on your computer's hard drive. Once you agree, the file is added and the cookie helps analyze web traffic or lets you know when you visit a particular site. Cookies allow web applications to respond to you as an individual. The web application can tailor its operations to your needs, likes and dislikes by gathering and remembering information about your preferences.

We use traffic log cookies to identify which pages are being used. This helps us analyze data about webpage traffic and improve our website in order to tailor it to customer needs. We only use this information for statistical analysis purposes and then the data is removed from the system.

Overall, cookies help us provide you with a better website by enabling us to monitor which pages you find useful and which you do not. A cookie in no way gives us access to your computer or any information about you, other than the data you choose to share with us.

You can choose to accept or decline cookies. Most web browsers automatically accept cookies, but you can usually modify your browser setting to decline cookies if you prefer. This may prevent you from taking full advantage of the website.

Links to other websites

Our website contains links to other websites. However, once you have used these links to leave our site, you should note that we do not have any control over that other website. Therefore, we cannot be responsible for the protection and privacy of any information which you provide whilst visiting such sites and such sites are not governed by this privacy statement. You should exercise caution and look at the privacy statement applicable to the website in question.

Controlling your personal information

We will not sell, distribute or lease your personal information to third parties unless we have your permission or are required by law to do so.

If you believe that any information we are holding on you is incorrect or incomplete, please email us at overseas@freethetone.com as soon as possible. We will promptly correct any information found to be incorrect.