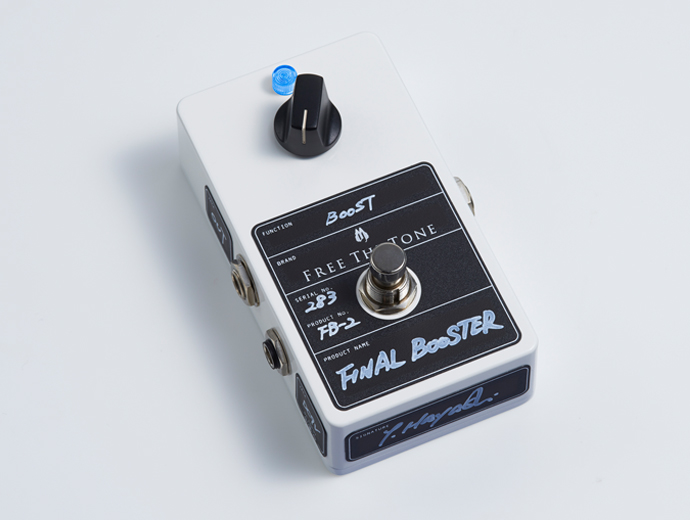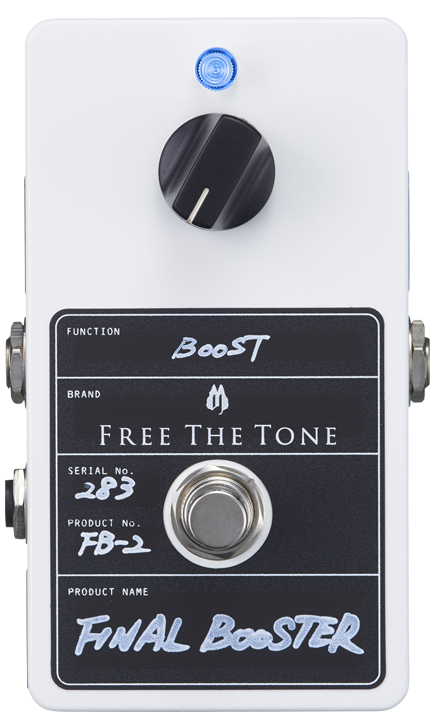 The FREE THE TONE FB-2 FINAL BOOSTER is a full-range booster that can provide +20 dB of boost. It will not degrade the highs and lows of your guitar signal when the effect is turned on and will provide a natural sounding boost without affecting the original tonal characteristics of your guitar or bass. The HTS circuit is also built-in to preserve the sound quality whether the effect is turned on or off. The Final Booster does not reverse phase when the boost is turned on. Although it is not widely known, boosters that employ a single-transistor or FET circuit cause a phase reversal when switched on, and this can cause the sound to drop in level or result in phase cancellation. The Final Booster does not have this problem.
BACKGROUND & DEVELOPMENT
The Final Booster uses discrete transistor circuitry with no ICs and it has a natural high-end harmonics sound. The sound of the old model was highly appreciated, however I was asked by a user if it was possible to reduce the switching noise level. A true bypass circuit was used to switch the effect on/off so it was difficult to reduce the switching noise.
In the summer of 2012, I developed the HTS circuit when I designed the GIGS BOSON and IRON FOREST pedals.

I thought the HTS circuit may solve the problem with switching noise, and it worked well for the booster too.

The switching noise level was reduced thanks to the HTS circuits and it preserves the sound quality whether the boost is turned on or off.
If there is sufficient headroom in the amp being used, the FINAL BOOSTER can be connected directly to the amplifier's input and used for straight volume boost. If you're using a tube amp it can be used for drive boost. The reason for the "FINAL BOOSTER" naming should now be clear… it will normally be the last pedal connected in an effect chain. Of course you could also connect it before an overdrive pedal in order to clip the overdrive input stage and create new distortion effects, for example.

A booster is essentially nothing more than a volume-increasing device, but in actual use it goes much deeper than that. Different sonic nuances can be achieved by connecting it in different ways. Using it in combination with overdrive or distortion pedals can produce some really interesting new effects. With a little ingenuity and trial-and-error testing it can be a source of unexpected new sounds.