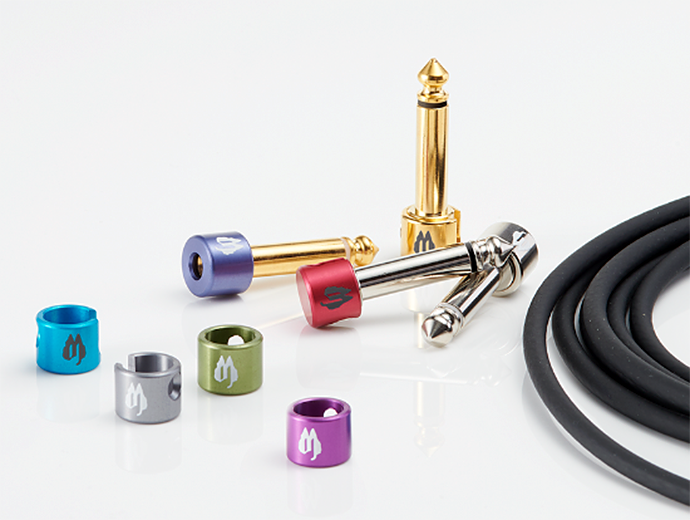 | | |
| --- | --- |
| Model | SL-4/SL-5 SERIES |
| Type | SOLDERLESS CABLE |
SL-5 SERIES SOLDERLESS CABLE
SL-5S-NI-2P / Solderless Plug Nickel Straight x 2pcs Yen1,440.-

SL-5L-NI-2P / Solderless Plug Nickel Angle x 2pcs Yen1,740.-

SL-5SL-NI-2P / Solderless Plug Nickel Straight x 1pc/Angle x 1pc Yen1,590.-

SL-5S-GD-2P / Solderless Plug Nickel Straight x 2pcs Yen2,040.-

SL-5L-GD-2P / Solderless Plug Nickel Angle x 2pcs Yen2,440.-

SL-4SL-GD-2P / Solderless Plug Nickel Straight x 1pc/Angle x 1pc Yen2,240.-

Solderless Plug Caps for SL-5S plug x 4pcs Yen1,280.-

Solderless Plug Caps for SL-5L plug x 4pcs Yen1,320.-

Solderless Cable CU-5050 1m in package Yen760.-

Solderless Cable CU-5050 BULK (Indicate length in meters) Yen760.-/m
SL-4 SERIES SOLDERLESS CABLE
SL-4S-NI-2P / Solderless Plug Nickel Straight x 2pcs Yen1,440.-

SL-4L-NI-2P / Solderless Plug Nickel Angle x 2pcs Yen1,740.-

SL-4SL-NI-2P / Solderless Plug Nickel Straight x 1pc/Angle x 1pc Yen1,590.-

SL-4S-GD-2P / Solderless Plug Nickel Straight x 2pcs Yen2,040.-

SL-4L-GD-2P / Solderless Plug Nickel Angle x 2pcs Yen2,440.-

SL-4SL-GD-2P / Solderless Plug Nickel Straight x 1pc/Angle x 1pc Yen2,240.-

Solderless Plug Caps for SL-4S plug x 4pcs Yen1,280.-

Solderless Plug Caps for SL-4L plug x 4pcs Yen1,320.-

Solderless Cable CU-416 1m in package Yen600.-

Solderless Cable CU-416 BULK (Indicate length in meters) Yen600.-/m
SL-4 series Solderless Cable Kits
SL-4S-NI-10K (SL-4S-NI Plug 10pcs / CU-416 Cable 3m) Price : Yen9,000.-

SL-4L-NI-10K (SL-4L-NI Plug 10pcs / CU-416 Cable 3m) Price : Yen10,500.-

SL-4SL-NI-55K (SL-4S-NI Plug 5pcs / SL-4L-NI Plug 5pcs / CU-416 Cable 3m) Price : Yen9,750.-

SL-4S-GD-10K (SL-4S-GD Plug 10pcs / CU-416 Cable 3m) Price : Yen12,000.-

SL-4L-GD-10K (SL-4L-GD Plug 10pcs / CU-416 Cable 3m) Price :Yen14,000.-

SL-4SL-GD-55K (SL-4S-GD Plug 5pcs / SL-4L-GD Plug 5pcs / CU-416 Cable 3m) Price :Yen13,000.-
SL-5 series Solderless Cable Kits
SL-5S-NI-10K (SL-5S-NI Plug 10pcs / CU-5050 Cable 3m) Price:Yen9,480.-

SL-5L-NI-10K (SL-5L-NI Plug 10pcs / CU-5050 Cable 3m) Price:Yen10,980.-

SL-5SL-NI-55K (SL-5S-NI Plug 5pcs / SL-5L-NI Plug 5pcs / CU-5050 Cable 3m) Price:Yen10,230.-

SL-5S-GD-10K (SL-5S-GD Plug 10pcs / CU-5050 Cable 3m) Price:Yen12,480.-

SL-5L-GD-10K (SL-5L-GD Plug 10pcs / CU-5050 Cable 3m) Price:Yen14,480.-

SL-5SL-GD-55K (SL-5S-GD Plug 5pcs / SL-5L-GD Plug 5pcs / CU-5050 Cable 3m) Price:Yen13,480.-
FREE THE TONE devised its innovative ultra miniature solderless plugs (SL-8 Series) in 2012. Since solderless cables can be easily handcrafted without soldering, they are widely used these days. It has been almost seven years from the release of this product and since that time we have accumulated a lot of know-how.
Over time, solderless cables must evolve too. So we decided it was the time to reconsider solderless cables in order to meet a variety of newly emerging needs.
Aiming at purer signal transduction, easy and secure steps for assembly, and the joy of handcrafting cables with wider options for cable selection in sound making, FREE THE TONE has renewed its solderless cables.
For more direct signal transduction, the plug's tip and core wire connection pin are integrated together.


To allow easier assembly, the Pro Series (gold plated) now has the same structure as the nickel-plated type.


Two new Solderless plugs are available, one for 4 mm CU-416 cable and one for 5 mm CU-5050 cable.


The cap of the S (straight) plug is now replaceable like that for the L (L-angle) plug. Caps are available in six colors in total. This makes it easier to design a custom system by allowing the use of different plug cap colors on input and output sides or on different signal loops, etc.
In 2019, FREE THE TONE's solderless series is reborn.


SL-4 (Ring, Logo White)
Solderless plug for CU-416 Instrument Link Cable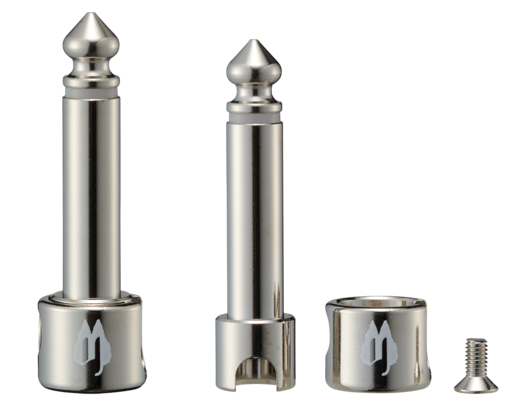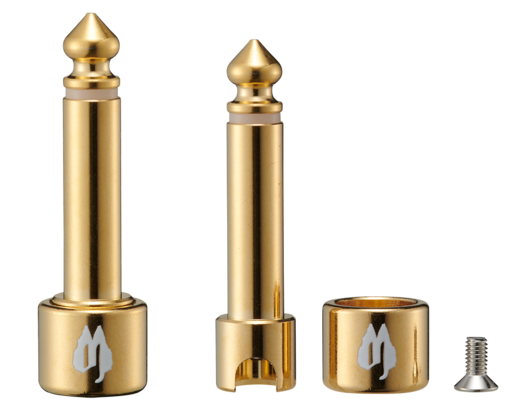 SL-5 (Ring, Logo Black)
Solderless plug for CU-5050 Instrument Link Cable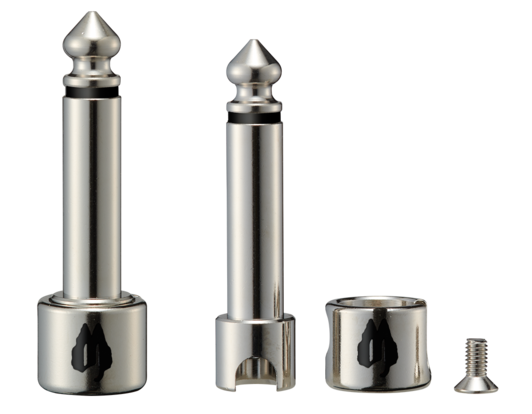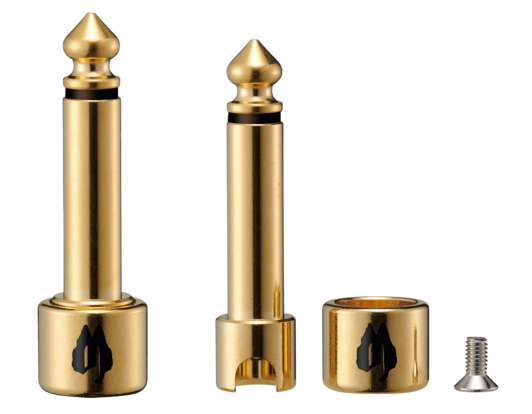 SLC-4A / SLC-5A (six colors in total)
Replacement Caps for SL-4 and SL-5. You can customize your system by using different colored plug caps on the input and output sides or on each signal loop.


CU-416 (for SL-4)
This cable excels in sound quality, flexibility, durability, and workability and is applicable not only to audio signals but also DC power. Although its diameter is just 4 mm, the potential this cable has is very high and it is especially useful in interconnection in a pedalboard or rack system.
CU-416 Cable features a natural sound and can be used as an all-purpose cable to connect an effects unit or switcher, etc. Since this cable is the thinnest in our lineup and most flexible, we recommend it to any player who wants to put everything in a compact pedalboard.
CU-5050 (for SL-5)
This is the productization of our ideal for connecting effects units together based on FREE THE TONE's many years of experience in building systems.
With 50 strands of ø0.08mm oxygen-free copper (OFC), this cable incorporates high sound quality, flexibility, and durability. Also its high-density braid shield makes this cable almost immune to external noise.
CU-5050 features a fatter sound than CU-416. We recommend this cable when making a pedalboard for a bassist or a guitarist who plays 7- or 8-string guitars or drop-tuned guitars, and when a fatter sound is required and an effects unit such as a FUZZ or overdrive is connected.
Solderless Cable Kit Lineup
SL-4 SERIES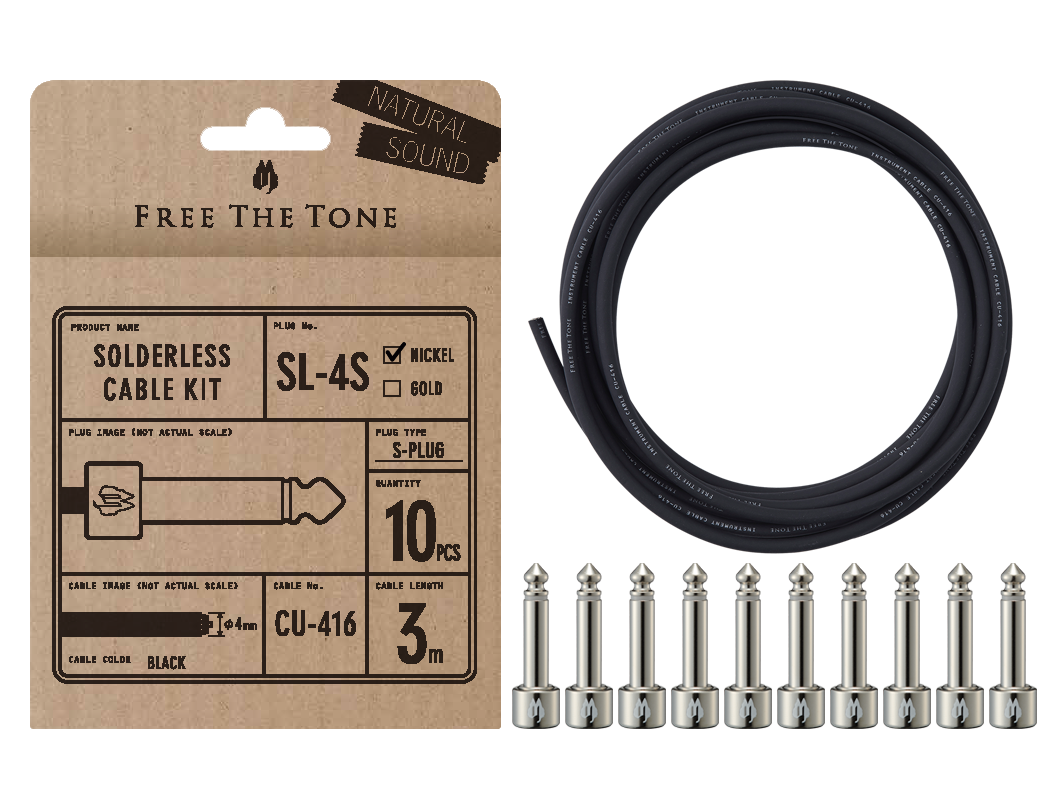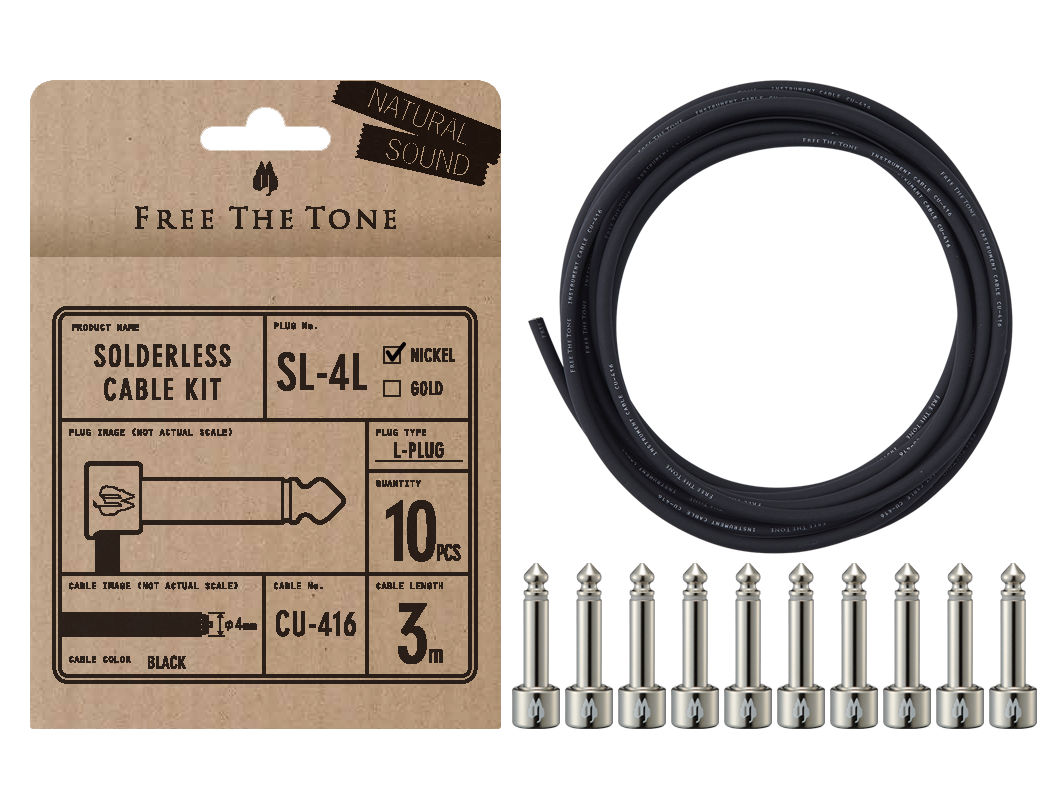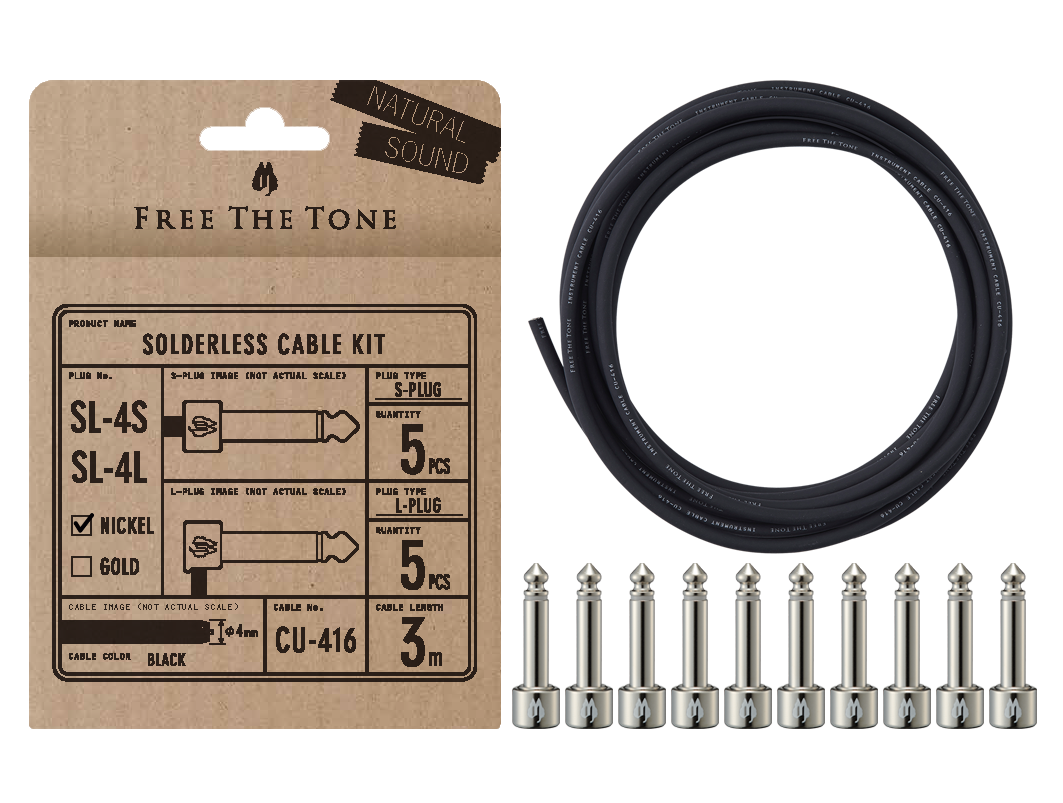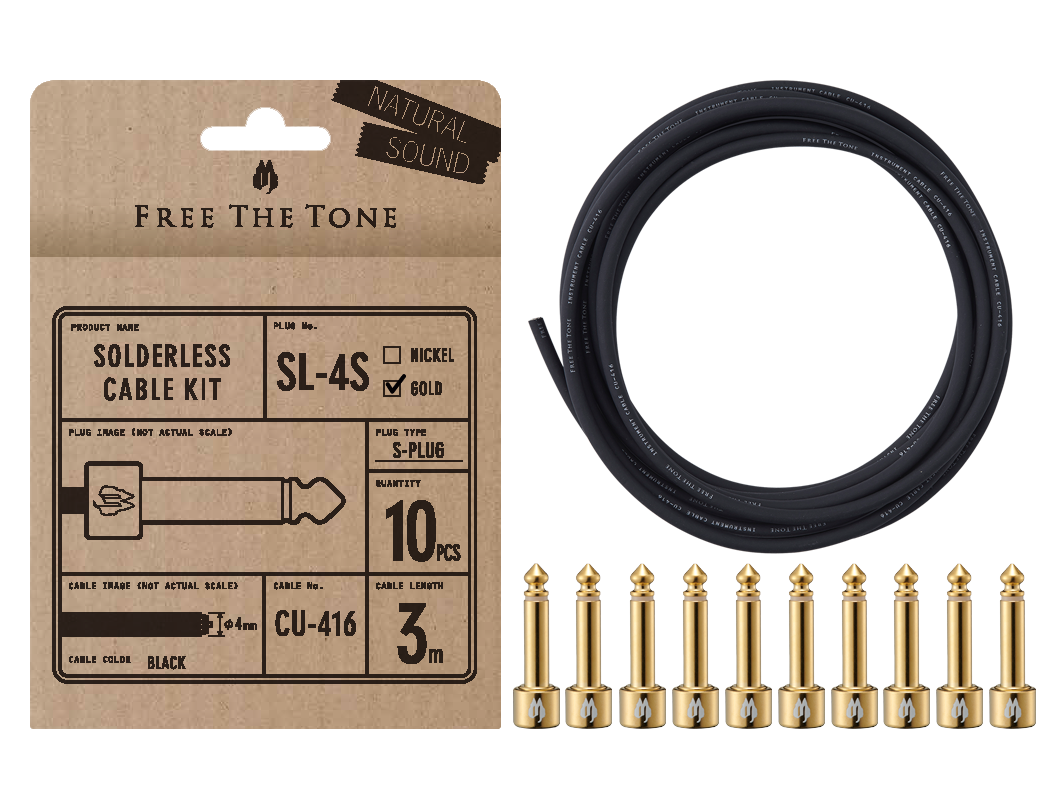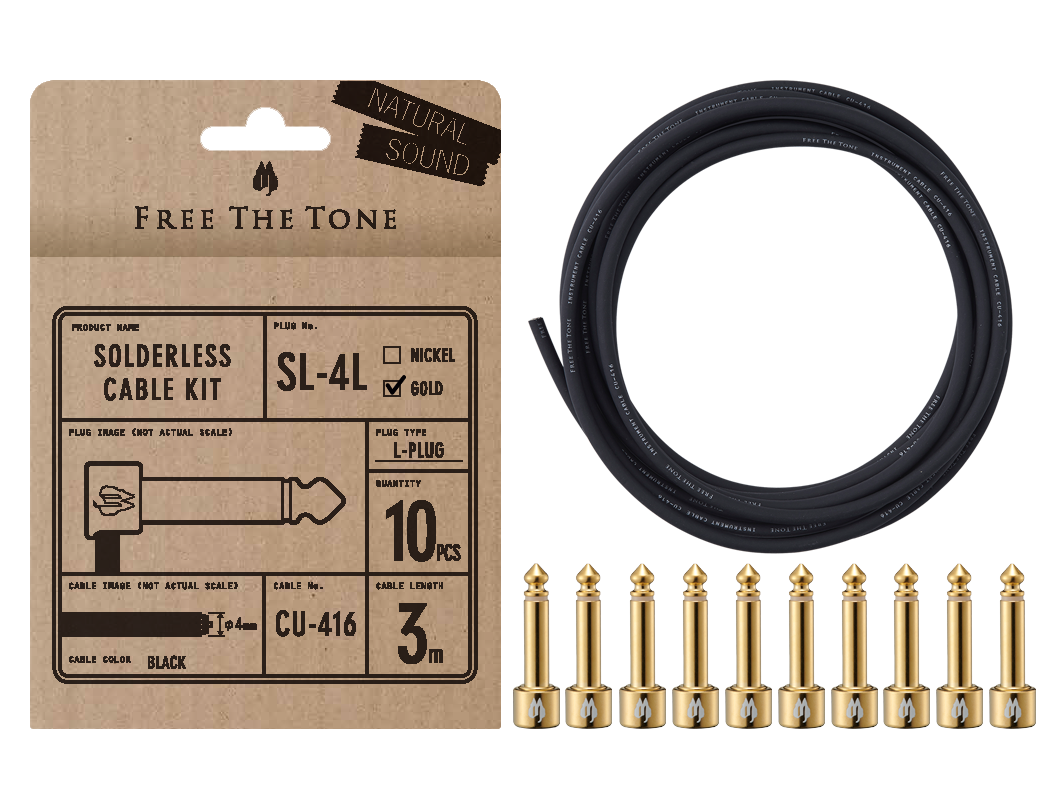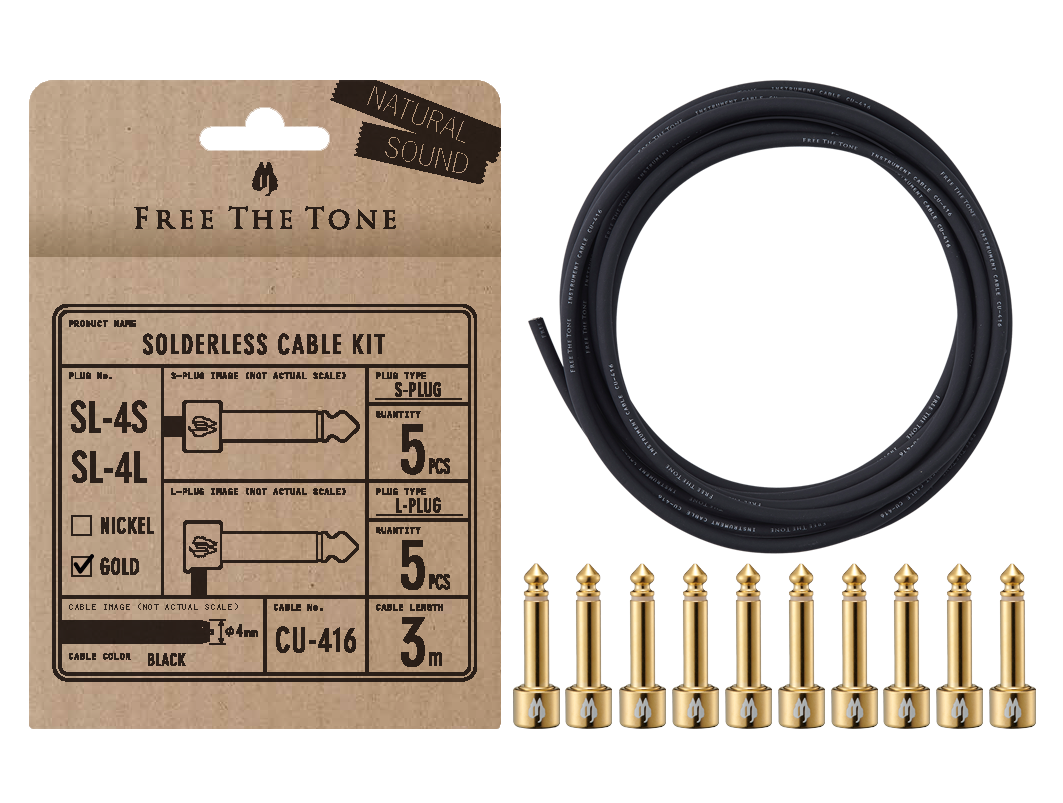 SL-5 SERIES